Are you fed up when clients keep sending you confidential information through unencrypted email?  Have your customers complained that you are not offering a secure alternative?
Despite security conserns we continue using unencrypted email for business.  Encrypted email services are still rather cumbersome to use and even though they are widely available, are still limited to specific, highly confidential processes such as M&A deals or legal negotiations.   Unencrypted email is still widely used to transfer confidential and private information, identity document and bank details, even though it shouldn't.  Convenience trumps security in this case.  But is the choice really binary between unencrypted and encrypted email services?
We think that there is a middle ground through a simple, easy to use upload link.    To move away from sending attachments through unencrypted email one can embed a link in an email signature and ask counterparties to use it for document transfer.  If they ignore it, at least you can say that you offered a secure alternatives withouth forcing anyone to set up a new login.
With MyDocSafe, you can create separate, unique upload links for each portal and share them with anyone you choose. This feature provides an additional layer of security, as the upload link can be disabled at any time, ensuring that only authorized users can access the documents.

Uploading documents is simple – you can drag and drop them into a browser window, eliminating the need for complex software or file transfer tools. Additionally, the sender cannot view the contents of the portal unless they have been explicitly invited, helping to maintain confidentiality and privacy. Overall, using a secure upload link like the document deposit chute offered by MyDocSafe is an effective and efficient way to share documents while maintaining the highest levels of security.
When anyone uploads a document using the link you can receive an email notification.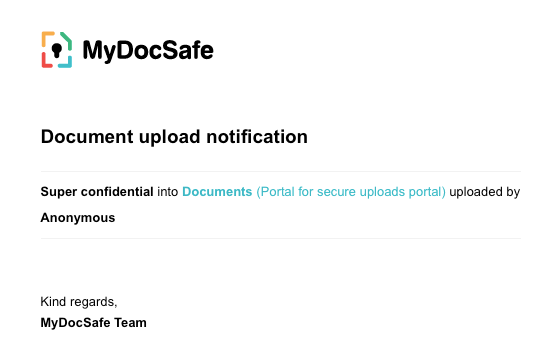 To generate a link: go to a portal of your choice, click 'request documents' and copy the link that is automatically generated.
Then embed it in your default email signature.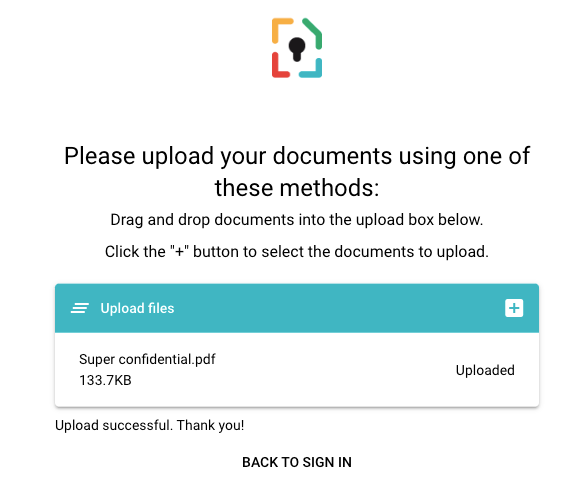 We have seen such links used by lawyers, consultants, accountants, will writers and M&A advisers.
To have a go, set up a trial and follow the instructions above.