Document Workflow automation
In this article I would like to explain how MyDocSafe helps automate document workflows.
Definitions
Let's start with definitions since here we use a number of terms that may not be obvious.
Workflows.
Workflows can mean different things to different people.  I will define workflow as "a number of actions that a company may want their clients to perform in a pre-defined sequence" in order to start a business relationship or to conduct business.   This may involve simple actions such as digital signature creation and making a payment or can involve a complex, multi-threaded workflow.  The latter may involve multiple departments, multiple individuals and dozen steps or more including product selection, followed by AML checks, contract signing and form filling.  Finally, check out our product page specifically related to client onboarding.
Digital signatures.
Look at the legal section of our website to find out what is an electronic signature and read why our legal e sign is accepted around the world.  Also, review our product page to see how our digital signature works.  For a more high level view, visit wikipedia.
AML checks.
AML checks or anti-money laundry checks, mean digital identity and background verification tools that take data, documents and images as inputs and produce reports as outputs that usually provide a score related to reliability and verifiability of data from public sources.
Onboarding
Any company with a compliance department or expertise is probably familiar with the term.   To those unfamiliar with it, let us define onboarding as "steps required to legally start a relationship with a client".  In some industries these steps must involve identity verification which often must proceed any contract signing.   In others, onboarding is more a matter of slick sales experience rather than compliance.   Arguably, however,  it is a matter for both sales and compliance departments working hand in hand to deliver a painless onboarding experience.
Starting or renewing a business relationship
We offer three tools that can be mixed and matched to specific client requirements to help you onboard your clients:
1. Client: one or two individuals or company directors
Product name: MyDocSafe Workflows
Use cases: Ideal for small professional services firms such as accounting firms, law firms, bookkeepers, real estate agencies, financial advisers, consultancies
Available steps:

Document signing
Form filling
AML checks
Charging clients

 Pros

Very easy and quick to set up
Any order of steps allowed

 Cons

Workflows are sent as a link which requires the client to go through all steps 'in a single sitting' without the ability to save work and log out

Watch the video
2. Client: an individual or a company director
Product name: MyDocSafe Proposals
Ideal for small professional services firms such as accounting firms, law firms, bookkeepers, real estate agencies, financial advisers, consultancies
Available steps:

Marketing brochure
Marketing video
Acceptance of services
Acceptance of pricing schedule
Setting up of a payment mechanism
Document signing (1 or more documents)
AML checks (ID verification and document checks)
Due diligence or fact-finding form (1 or more)

 Pros

A self-service set up
Ability to renew relationships in bulk by importing a single CSV file
Out of the box dashboard
Workflow API
Third party integrations (Xero, Zapier)

 Cons

No back-office workflows beyond notifications
Pre-defined order of steps that cannot be swapped

Watch the overview video
Watch the tutorial
3. Client: an individual or multiple individuals representing a family or a company
Product name: MyDocSafe Portals
Ideal for wealth managers, commercial real estate landlords, investment funds, private banks and large accounting firms
Available steps: Anything you can think of and in any order you want:

Marketing materials
Fact find forms
Digital signing or document 'approval'
AML checks (including selfies and ID scanning)
Payment setup
Pausing the process to give back office time to evaluate results and make go/no go/redo decisions
The workflows can be configured to re-adjust on the fly based on client's or company's choices.

Pros

Full flexibility over the process
100% white label
AML checks using multiple providers
Configurable notification
Advanced management dashboard
Workflow API
Any third party integration available

 Cons

Requires a setup / configuration cost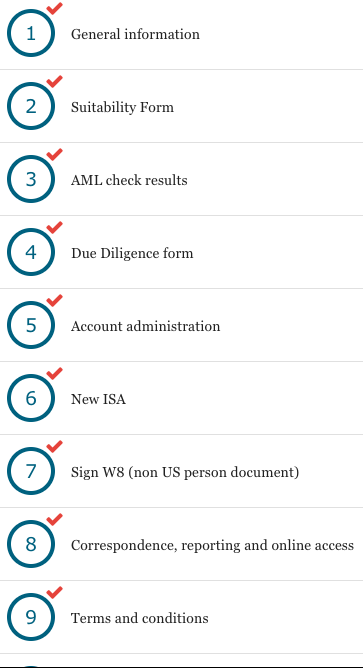 What happens after: customer portals
Once the relationship has begun, our powerful API can ensure that relevant data and documents can flow to third party systems to trigger back-office workflows.  Then the client can be offered a client portal that can be accessed using the same login as the one set up for the onboarding process.   The customer portal can be used to:
Chat, trigger reminders or publish announcements
Request, share or sign documents
Fill and sign forms
Conduct complex transaction such as real estate transactions, company M&A or private investments
For task-based back-office workflows please refer to our integration partners who specialise in those.
Summary
You can achieve document workflow automation using our tools in a number of ways.  One needs to consider the setup time and cost, client experience, frequency of use, and ease of making changes.  MyDocSafe workflow tools are all easy to maintain once set up, letting you get on with the job without having to contact support.   If this sounds interesting, try our free account for a month, or if you requirements are complex, contact sales@mydocsafehq.com today.